To who wants to know the html code from the image that we keep on photobucket via phone , please read this tutorial to completion . hopefully can help you .
The first step : you must have an account on photobucket . If you do not already have an account , please create an account first on the website www.photobucket.com
To find the html code from the image we have uploaded on photobucket via mobile phone , then in need of a browser application to surf the Internet .
On this occasion I use the Opera Mini 4.2 browser . If you do not have this application , please download opera mini 4.2 mobile phone directly via the browser
Here
If you want to download opera mini 4.2 from the computer please
Click here
If you already have an application opera mini 4.2 and Opera Mini 5 , please log in to photobucket by typing this address in the address bar http://m.photobucket.com , then enter your user name and password .
After a successful login , then you will find pictures taken its html code . Click on the picture / photo at its desired html code , then there will be a choice under the picture . Her examples like the screenshot below :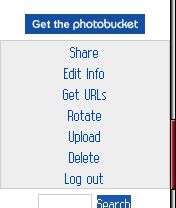 Note the picture above . Pick inscription
Get URLs
then you will see the HTML code of the image. For example you can see in the screenshot below .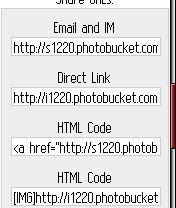 There are already some html code of his choice . But at its base is the same . But the easiest I suggest grab the html code below his own . Code is as follows :
[IMG]
http://i1220.photobucket.com/albums/xx486/wongsikampuh/gambar.jpg"
[/IMG]
grab the red code only. And the blue code should not be taken .So that the image can be performed right in the post or side bar code then add it as below
>img border="0" height="100"px width="200"px src="
http://i1220.photobucket.com/albums/dd457/wongsikampuh/gambar.jpg
Description :
html code blue is an additional code . While the red code is the original code from photobucket . Adjust the height and width of the image by replacing the numbers on paper
height and width
.
Hopefully useful and add insight :-)